Electric fireplaces can provide warmth and ambiance to any room, and they work without the need for a chimney, venting, or plumbing. They have become increasingly popular due to their ease of installation and use as well as their portability. They are economical for year-round use, and the heat can be regulated, so they are ideal for more temperate climates. Electric fireplaces are also a smart choice for renters, since they are considered a piece of furniture, and they can be installed virtually anywhere there is an electrical outlet. Because an electric fireplace is not a permanently-installed fixture, renters and homeowners alike have the flexibility to take it with them if they move.
Electric fireplaces usually have flame only, heat only, or flame and heat combination settings. They can be operated from remote control or by controls mounted on the mantle. Heat is pushed out by an internal fan, and the average model creates about 4,500 BTUs of heat. This is enough to comfortably heat a 10x12 room, but electric fireplaces are not intended solely as a replacement heat source.
Different options include electric firebox inserts that can be used in an existing fireplace, freestanding electric fireplaces designed to look like gas or wood stoves, and three-sided electric fireplaces. The most popular option remains a firebox and cabinet combination, which comes in a variety of designs, sizes, finishes, and features. The firebox may also be hardwired for permanent installation.
The total cost of an electric fireplace can range up to $1000 or more, depending on the type of customization. Nevertheless, a carefully chosen electric fireplace, of classic or modern design, is sure to add style and class to any room of the house!
Electric Fireplace Manufacturers
Related Site
Space Heaters features an introduction to indoor and outdoor heaters plus a directory of electric and gas heater manufacturers.
---
Electric Fireplaces - Electric Fireplace Guide
Related Images
Fireplace With Red Mug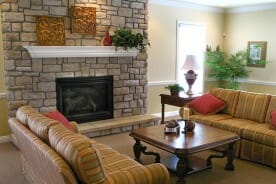 Family Room With Fireplace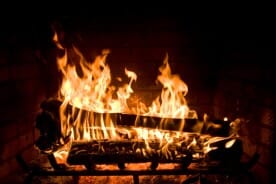 Cozy Fireplace